I don't know about where you live but here in Chicago we have had some amazing weather this March! While this week has been on the cooler side with a bit of rain, we have still been able to go outside and enjoy the fresh air and sunshine. Yesterday we even got for a walk. It was incredibly windy and I'm sure I burned of extra calories pushing two little boys in a double stroller! Ha!
With the warmer weather comes thoughts of trips to the zoo, picnics, barbecues and cook outs (open fire). Our family loves to eat meals outside in the summer. At our old house our patio was very open and did not allow for much privacy during dinner for conversation; but that goes with living in a townhouse subdivision. At our new house we have a delightful little patio that overlooks the back fields and is pretty much private. We love it!
There has always been a picnic table adorning our patio, however, when we moved my husband took it apart and gave the pieces of wood to our sons to use for their "creations". Since then I have missed having something on the patio to sit on. While we do have a few lawn chairs, I have always looked at *real* patio furniture with a bit of envy and regret. The picnic table was practical and functional, but a wee little part of me desired something "prettier".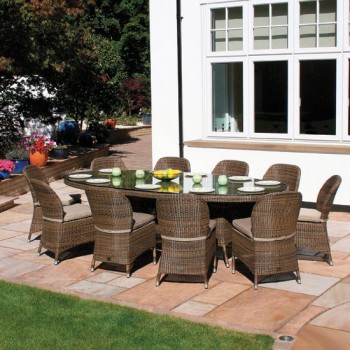 Now that we actually need patio furniture I would love to get something a bit more sophisticated than our old picnic table. I really like one of the sets of patio furniture from Bridman. Of course, it is one of the more expensive rattan garden furniture sets…..my mother always did say I had expensive taste! The thing is we'd need something this size for our family, if not bigger when we entertain.
Look at this one has two more places, which help would help when company is over! But what a price tag they have…..woooowhee!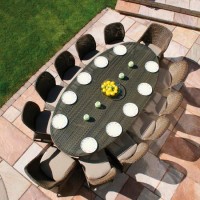 It's time for patio furniture, however, it probably won't happen this year so here's to dreaming about new patio furniture……


Share and Enjoy