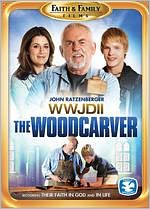 Vivendi Entertainment and Nasser Entertainment bring this heartfelt story to life on DVD!
Synopsis:
Rebelling against his parents and the broken home he comes from, fifteen-year-old Matthew Stevenson makes a destructive choice to get attention: he vandalizes the church his father is renovating. To avoid criminal charges, he agrees to repair damage he caused to the intricate carvings and finds himself working alongside Ernest Otto (John Ratzenberger), a talented but reclusive woodworker. Laboring together, an unlikely friendship forms and both come to realize that all things are possible with faith, family, and friendship.
Our Review:
This was a wonderful movie! My entire family thoroughly enjoyed the film. I especially liked that I did not have to pre-screen the movie since it has the DOVE seal of approval (Family Friendly). My family loved the parallel theme of restoring the church and resorting faith that ran throughout the movie…this was a great topic of post-movie conversation! It was also neat to see John Ratzenberger in the role of Ernest. I remember him from Cheers and the children know him from the Disney Cars movies…so it was nice to see a familiar face in the film! This is a great film for the Easter season also… in respect that it exemplifies restoring belief in God and in life.  What a great way to teach faith and forgiveness! Constantly remembering that change is possible if we simply follow God!
Overall a great family film…even my 3 year old was engaged throughout the entire movie! The movie itself created a great sounding board for post movie discussion with your family and children…I loved that I could tie this movie into the Easter season. I will be glad to pass this movie on the family and friends!
This film can be found at your local retailer…I noticed it was even available through Walmart! Available in stores this week.
Faith and Family Reviews received the following product in exchange for writing a review. While we consider it a privilege to receive free products to review, our reviews are our honest opinion and thoughts of the product.
Share and Enjoy