It is always exciting to learn of a person who is doing what you want to do. In my case it's work-at-home. I know, I know, I am doing that already, but let me finish. Work-at-home and make enough money to obtain financial freedom for our family. Those are my goals and have been during the last four years since my husband was laid off and earning less than he did. Carrie Wilkerson minces no words in her new book, The Barefoot Executive and how she reached her financial goals.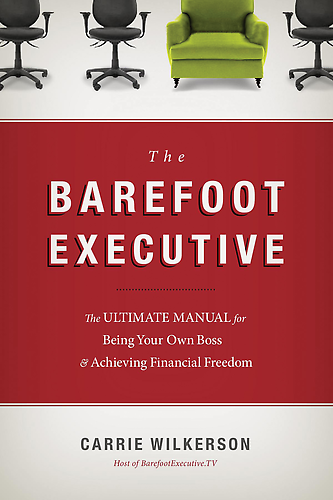 Carrie shares her own journey and the lessons she's learned in this book. I pretty much marked my copy all up reading it because what she had to say is what I needed to hear/read.
Quotes I like from the book:
"You simply cannot spend your life in fear of losing your job, your health, your life or your wife. I decided that I had to create my own financial reality and job security. Was I afraid of failing? Yes, but I could continue being scared and broke, or I could be afraid and well paid. I chose the latter. At some point, you have to be more afraid of not trying than you are of failing. ~ Carrie Wilkerson"
"Never, never, never give up."
"To live an extraordinary life, you must resist the ordinary." ~ Frank Mckinney
"Most miss opportunity because it shows up in overalls and looks a lot like work." ~ Ben Franklin
"I have been impressed with the urgency of doing. Knowing is not enough; we must apply. Being willing is not enough; we must do." ~ Leonardo da Vinci
Those quotes were just nibbles, I could add a slew more!
This past weekend I spent time going through Carrie's websites, videos, blog etc. and I must say I was impressed. Impressed but still skeptical, but only because that is my nature. I am impressed because in some ways she echoes what I have heard in the past but Carrie has more credibility than the others. Carrie has made her money. She's been on CNN, Forbes, Lifetime.com, Success and others. She's established herself as an expert and I want to learn from her. There are not too many business books I go ga-ga over but I have gone ga-ga over The Barefoot Executive.
If you have ever been waiting, waiting, waiting for something and then it was all of a sudden right in front of you, wouldn't you be in relieved? Excited? That's me. I feel like this book was written specially for me at this time in my life.
You may learn more about Carrie and her book at http://BarefootExecutiveBook.com/

Faith and Family Reviews received the following product in exchange for writing a review. While we consider it a privilege to receive free products to review, our reviews are our honest opinion and thoughts of the product.
Share and Enjoy