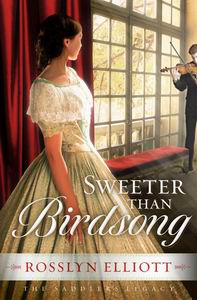 Yes, I have been at it again and had a reading spree! Ha! Sweeter than Birdsong is written by Rosslyn Elliot. This book revealed the harsh realities of a behind the scenes look at one wealthy family's home life in the 1800's. Appearances are not always as they seem. 150 years ago the line between one's pocket book and status in society was of much more importance than it is today. Though depending upon the place or people it can be very much alive today as well. The wealthy seem to have to put on airs and keep one's appearance impeccable. God forbid there should be a tarnish on one's image! That alone was a societal faux pas! One reason I am glad I did not live in that era of our history. I think the pressure would have stolen all my joy!
I admire people who take risks for the good of others even when it is not socially acceptable. Today those people would include midwives and God-fearing politicians going against their political party's "norm". That's all I can think of off the top of my head. In Sweeter than Birdsong those individuals were a part of the Underground Railroad. They obviously took great risks and paid a huge price if they were caught or if word leaked to members of their community. And it grieved me to relive what the blacks had to go through to fight for their freedom.
I enjoyed the personal journey of the main character, Kate Winter. Her shyness and fear of public speaking is something that I can definitely relate to. I loved how Rosslyn used Kate's experience with the Underground Railroad to propel her to take courage and speak up for what is right. She lost her fear and shyness when it came to defending the innocent. It took seeing the "under world" to realize that her problems were quite petty and insignificant compared to those of the fugitives.
There was one surprise that I loved in the book and that was what happened to Kate's mother at the end of the book, but I don't want to give away any spoilers so that is all I will say about it!
This book with all of its impossibilities gives hope for change and shows that when we use our God given talents for God's glory we will find life more rewarding, no matter the monetary cost.
Read an excerpt here.
For more about Rosslyn, visit her website.
Link to buy the book.

Faith and Family Reviews received the following product in exchange for writing a review. While we consider it a privilege to receive free products to review, our reviews are our honest opinion and thoughts of the product.
Share and Enjoy