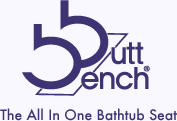 My first thought when I was first approached with something called a Butt Bench was, a Butt What?  After looking at the website (http://www.buttbench.com/), my curiosity instantly changed to I need one of these!
A Butt Bench is a wooden seat for the bathtub, it rests on the back of the tub and has 2 suction cups that attach to the wall.   Imagine, not having to be a flamingo or sitting on the edge of your tub trying to shave your legs. How many of us have had near accidents with falling over or sliding around on a slippery tub edge.  Come on, it's okay we've all done it.  With this product, NEVER AGAIN.  The Butt Bench is very sturdy and can easily be removed or installed when it is needed.  Their website says in the FAQ's section, the Butt Bench can hold up to 300 pounds.  They are available in Cedar,  Pine, Pink Pine, and White Pine.  The Butt Bench is also available in 12″ or 15″.
Here are 2 pictures from the Butt Bench website.
My Review –
Awesome product!  It is indeed sturdy and I feel much safer when shaving my legs.  I came down with a sinus infection is past week and it was great to sit in the steam.  It's also good storage for shampoo bottles and soaps, no more having an avalanche of bottles.
Good news!  They are having a Valentine's Sale!

Find them on Facebook –  https://www.facebook.com/buttbench1
Or Twitter –  twitter@buttbench
Faith and Family Reviews received the following product in exchange for writing a review. While we consider it a privilege to receive free products to review, our reviews are our honest opinion and thoughts of the product.
Share and Enjoy