By RJ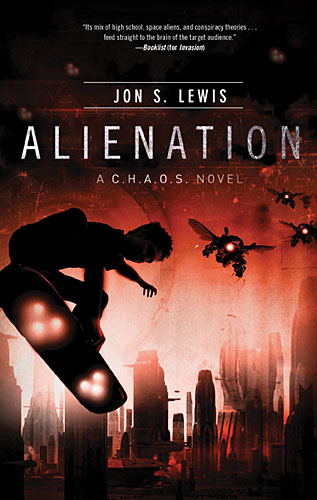 I'm a huge fan of anything action related. While I love a good classic book like Anne of Green Gables, I'm also a huge tom-boy and I love action books and sci-fi. I had a chance to review Alienation by John  S. Lewis and let me just say that this book is amazing.
Alienation is a book about Colt McAlister and his two friends Oz and Danielle. All that Colt wants to do is have a normal life. Without aliens, mutants, and danger. He wants his parents alive and he doesn't want to attend the CHAOS military academy.
But when someone is out to get him and take over the world will Colt step it up and take responsibility for what he has to do? Or will he just run away?
Can I just say that this book was AMAZING?????? This book is SO awesome! I can't get over how much I enjoyed this book.  Even my younger teenage sister enjoyed it. (Then again, she loves any books!)
I'm generally pretty picky about my sci-fi books. The story has to be easy to follow and it can't be too sci-fi or else I don't like it. But this book was such a great book! It was easy to follow and is a pretty easy read. I felt like I was right there with Colt, Oz, and Danielle.
I really connected with Colt in this book. I think that the author did such a great job with this book. Teens will easily connect and sympathize with Colt. They will also enjoy the adventures that he encounters along the way.
Even kids that don't like to read will love this book. Especially boys. But I know that teenage girls will enjoy this book too. Its action packed, suspenseful, funny, and dramatic. It's a great story with a powerful message that any teen will enjoy.
You can find this book in stores on January 3rd, 2012. Be sure to pick it up online or at your local bookstore.