Just finished Chasing Mona Lisa over Christmas weekend.  Yes, our Christmas was that low key!  I started reading it the week before Christmas during my nursing sessions with my 16 month old and was able to get it done. I have obviously heard of the Mona Lisa, but I had not heard of its theft as mentioned in the book. It is quite the interesting tale.
This book is set in WWII. The year 1944. A member of the French resistance and two Swiss agents are tangled in a web of honor and deceit as they try to protect the Mona Lisa from Nazis and keep her in France.
The story line held me in suspense, as I kept waiting and waiting for the plot to get to chasing the Mona Lisa. I had to wait until chapter nine to find out that the hunt was about to begin! While waiting the plot was just thickening in preparation for the chase!
There seemed to be more characters than usual, for a paperback book like this one, so my mind worked hard to place everyone in their appropriate scenes and relationships. This actually created a bit more intrigue as I tried to figure out who was where, doing what, with whom…you know what I mean?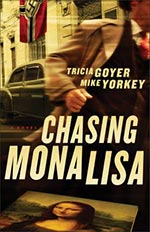 Chasing Mona Lisa is very mild in terms of the events occurring through out the story, especially considering all the heinous crimes committed during that time. Nevertheless, the authors conveyed these things through the hatred displayed by certain characters. The blood they shed and crimes committed by both sides because murder was committed by so called good people but usually in self-defense.
While Romance was hinted at throughout this book, this was not a gushy romance novel, it was a historical fiction filled with adventure. It was filled with secrets, bravery, espionage, loyalty and a love of art. A great change of pace! I thoroughly enjoyed the plot and characters. The way it ended left me thinking there wouldn't be another book, yet the story line left me wondering about a couple of characters that I truly hope there is another book in the works!
I admired the loyalty, courage and commitment to the cause, which was liberating Paris and restoring the country's extensive art collection. I was held in suspense with the twist on the art smuggling and sales. Chasing the Mona Lisa created a desire to learn more about the Mona Lisa and Paris. I also want to write the first book of this sequel, The Swiss Courier as it is based upon one of the characters in this book! Might have to spend some of my Christmas money on a copy! (Scratch that, my daughter bought it for me!)
This was a great read and I highly recommend it! A word of warning though, if you are looking for a book with a spiritual theme, you will not find it in Chasing the Mona Lisa. If you are looking for a clean plot about history, fiction and adventure, then this is your book.
"Available January 2011 at your favorite bookseller from Revell, a division of Baker Publishing Group."

Faith and Family Reviews received the following product in exchange for writing a review. While we consider it a privilege to receive free products to review, our reviews are our honest opinion and thoughts of the product.
Share and Enjoy