As you may have noticed, life is busy here in our home and reading is something that I do just to relax and zone out. It helps me take a break from all the things pressing for my attention and allows me to escape only to have a better focus on what needs to be done.  I certainly have more time to read during the colder months of the year than I do during the warmer months, as is evidenced by an almost weekly supply of book reviews lately!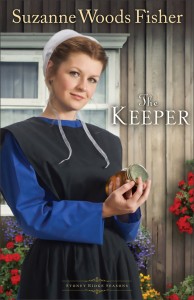 This next book review is by an author I have come to love. I get excited when I see Suzanne Woods Fisher's name on an upcoming blog tour list! It is a contemporary romance but what I like about Suzanne's books is the relationships and life lessons God is teaching her characters. There is always something for everyone in her books. Whether you are grieving, holding on to something that it has become an idol or plain need to slow down and take it easy The Keeper will teach you something.
I loved the Lapp's family dynamics. Their love and care for one another is as it should be within a family unit. I loved how the character Fern seemed to know just how to bring out the best in each of the family members. I loved the sweetness and innocence of Menno, may we all have child-like faith and love like his.
I grappled with the heart transplant issue as I have never really come to a decision on what I believe about it. And I truly wonder what the Amish think about it all. I know all the finer points and the benefits of organ donors and transplants, but there is a fine line there in harvesting them and truly knowing the heart of God in a matter like this one. This is a whole can of worms, I know, but I am just being honest here.
Suzanne had me laughing and thoroughly amused through most of the book. Then towards the end I was crying. My oldest said, "You always cry in her books." I snapped, "You would too if……." Sorry I didn't want to reveal a spoiler! You'll just have to read the book yourself.
Two thumbs up from me!
"Available January 2012 at your favorite bookseller from Revell, a division of Baker Publishing Group."

Faith and Family Reviews received the following product in exchange for writing a review. While we consider it a privilege to receive free products to review, our reviews are our honest opinion and thoughts of the product.
Share and Enjoy