First, I have to admit that I did not read this book. My second oldest daughter did. Here is her review:
The Mirror of N'de is written by L.K.Malone. It is an allegory about young girl named Hadley Mivana and her journey to find a way to help her persecuted people, the Ramash, from the cruel rulers, the Oresed.
The book starts with strange dreams with a wonderful Being, representing Jesus. In the dreams are strange riddles. They are based on a forbidden tale about how their ancestors were banished from the Glorious city of N'de. There is are strange twists and turns that kept me glued to the book, but then again I am always glued to a book!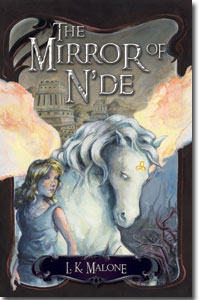 After three life changing events come to pass Hadley begins to understand her strange dreams. One of those events is when the Emperor and his son return and change their city…and I was very surprised at the outcome, I was not expecting it!
What I got from the book is to love your enemy no matter what and to stand up for what you believe in even if others are against you. This is often hard, but it takes more character and strength to stand up for your principles than it does to back down from them. I can only hope that I will be strong like that.
I really like allegories, so I thoroughly enjoyed this book. It was thrilling and very interesting to read about a mysteriously forbidden bedtime story coming to life!
Visit Litfuse here.
A Giveaway!
To be entered to win a $50 gift card to Amazon.com all you have to do is send a tweet (using @litfuse) about The Mirror of N'de or share about it on Facebook! That's it!
If you tweet Litfuse will capture your entry when you use @litfuse. If you share it on Facebook or your blog, just email let the Litfuse gals know (ckrumm [at] litfusegroup.com with no spaces)
Not sure what to tweet/post? Here's an idea:
TWEET THIS: New YA fantasy – The Mirror of N'de – compelling narrative and creative characters! @litfuse RT for $50 to @amazon http://ow.ly/7AWGT
FACEBOOK THIS: Don't miss this debut YA fantasy story: Crafting powerful narrative and creative characters, author L. K. Malone spins a compelling tale that combines exciting entertainment and the Christian story. In The Mirror of N'de, readers will empathize with the desires of an oppressed people, will anger at the affliction of a cruel adversary, and ultimately rejoice with the revelation of a Savior. Share this for a chance at $50 to Amazon.com http://litfusegroup.com/blogtours/text/13440685
Link to buy the book: http://www.amazon.com/dp/0825426677/ref=as_li_ss_til?tag=sprightly-20&camp=0&creative=0&linkCode=as4&creativeASIN=0825426677&adid=19YT611JVE91SRJZHKF3
Faith and Family Reviews received the following product in exchange for writing a review. While we consider it a privilege to receive free products to review, our reviews are our honest opinion and thoughts of the product.
Share and Enjoy