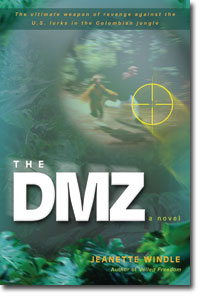 DMZ is a suspenseful novel packed with action and romance. Julie Baker is a reporter whose parents had been missionaries in Colombia. Old hurts and terrors surge as she revisits the place of her birth… and her parents death. When Julie is abducted by guerrillas, there is no escape! Will anyone help her or will she end up dead like her parents? In the end she is left with more questions than answers.
This book is packed with surprises at every turn and the ending is amazing! I loved how the author wrote such a spell binding book! I couldn't put it down! I really liked the entire plot and story. Even though this book was romantic and a tear jerker, it was still full of adventure. A really good book to say the least!

This book get's two thumbs up from me! You can find it on Amazon here.
Faith and Family Reviews received the following product in exchange for writing a review. While we consider it a privilege to receive free products to review, our reviews are our honest opinion and thoughts of the product.
Share and Enjoy