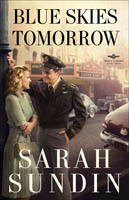 Since finishing at Mrs. A's farm I have had to catch up on some reading….pretty quickly I might add!
Sarah Sundin has a way of making her "historical romance" novels more than just an ordinary romance. Blue Skies Tomorrow was a story of intrigue – I love the fighter pilot adventures! This book was not only about adventure and intrigue, it contained a message of hope, deliverance and healing as well.
Anyone in a"dating" relationship should read this story as it deals with the all important reminder of getting to know the person you are interested in really well before you head to the alter.  Amid the reminder is the poignant struggle of how we can grow to show grace beyond our humanness…with God's help, of course.
Blue Skies Tomorrow was an enjoyable break from the every day happenings of life, like watching a movie is for some people. Now, I need to get back to real life and all the other work waiting for me!
Thanks Sarah for sharing a novel that show not only the battle between nations but those of the human spirit as well.
Faith and Family Reviews received the following product in exchange for writing a review. While we consider it a privilege to receive free products to review, our reviews are our honest opinion and thoughts of the product.
Share and Enjoy