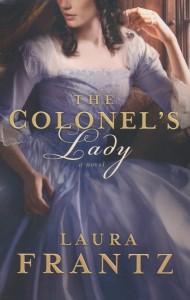 This summer I have not had much time for reading other than what I can do online, so it was a treat to participate in Revell's Blog Tour of The Colonel's Lady, even though I read the book quickly, I forgot to post my review! (The admission of a very worn out mama, who is juggling many balls right now…)
The Colonel's Lady is a historical romance written by Laura Franz. It is set during the 1700's on the Kentucky Frontier. Franz writes from a little different perspective than what most might consider normal in a "Christian" historical romance book.
I liked the perspective that she presented even though it meant revisiting some sad memories from my childhood. As much as alcohol is a part of our culture and society, I will never, ever consider it a part of my life. Thankfully, my husband is of the same mind.
Too many hurting people turn to alcohol to help them through hard times and this is the spin that Franz shares in The Colonel's Lady. The soldiers during that time were dealing with many difficult situations, especially the higher ranking officers, therefore, some would turn to "the drink."
Franz also delved where most Christian writers might dance around and that is the loneliness the soldiers experienced; and just how that loneliness was curbed – with loose women (or what would have been considered loose back then).
Let's just say that when I read about the hardships of others, even those in a fictional work, it strikes a cord within me and makes me grateful that God spared me from such a life.
I really liked this book. It was entertaining and tickled all the right emotions, as a good book should. I liked the suspense, I liked the surprise element of discovering who was leaking information to the opposition.
Overall, I recommend this book. Great reading for this fall and winter!
Available August 2011 at your favorite bookseller from Revell, a division of Baker Publishing Group.
Faith and Family Reviews received the following product in exchange for writing a review. While we consider it a privilege to receive free products to review, our reviews are our honest opinion and thoughts of the product.
Share and Enjoy