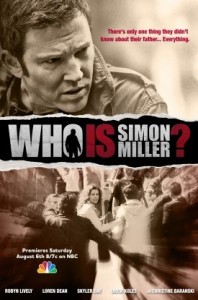 My family and I recently got to watch the new Family Movie Night movie, Who Is Simon Miller. And let me tell you, this movie is wonderful!
All of my children, and my husband and I loved this movie! It was action packed and suspenseful. We loved Kevin (the teenage son) he was hilarious, and we all laughed at his funny speeches!
There is no questionable content in Who Is Simon Miller? So, it's a great movie to watch with your kids. All of my kids sat through it and loved Who Is Simon Miller. We didn't want it to end!

Thanks Family Movie Night for making yet another AWESOME movie! We love your movies and cannot wait for the next one! We have seen every single one of their movies and highly recommend them all!
Be sure to watch Who Is Simon Miller? on Saturday, August 6 on NBC at 8pm ET/7pm CT. AND be sure to like them Who Is Simon Miller on Facebook.
I wrote this review while participating in a campaign by Mom Central Consulting on behalf of P&G and received a promotional item to thank me for taking the time to participate.
Share and Enjoy