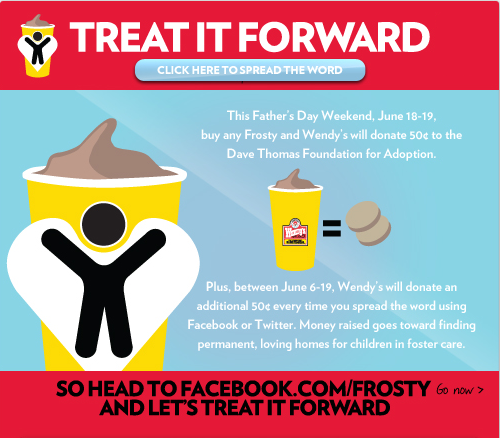 It's Father's Day, and what better way to celebrate then to treat your dad to a yummy frosty from Wendy's! And guess what? You can buy dad a treat AND give back! How? Well, 50 cents from each Frosty purchase will be donated to the Dave Thomas Foundation for Adoption, on Father's Day weekend (June 18 and 19). These donations will be used to benefit the cause of Wendy's Wonderful Kids, which is a program that helps foster children in need find great homes.
Ways to give:

1. Twitter – Use the Treat it Forward application on www.facebook.com/frosty (Treat it Fwd tab), or use the hashtag: #TreatItFwd (please note, this is modified from the hashtag I sent last week). A donation will be made, by Wendy's, for each designated tweet or re-tweet made from Treat it Forward.
2. Facebook – Send a Facebook friend a "virtual" Frosty, or tell friends about Father's Day Frosty Weekend through the Facebook application found on www.facebook.com/frosty (Treat it Fwd tab); as a result, Wendy's will make a donation.
3. Also, from Facebook, on Father's Day Weekend only (June 18 & 19), offer a "Here's to You, Dad!" Frosty "virtual toast" by snapping a photo of you raising your Frosty cup to Dad, tagging it with the words "Wendy's Father's Day Frosty Weekend" and posting it to Wendy's Facebook wall or tweeting it; this, too, will result in a donation from Wendy's.
4. Foursquare – Every person who 'checks in' to a Wendy's during Father's Day weekend only (June 18 & 19) will result in a donation from Wendy's.

Tweet Ideas:
– Buy a @Wendys Frosty to #TreatitFwd and donate 50 cents to @DTFA this Father's Day! RT to donate!
– Want to help foster kids find homes? RT this to donate 50 cents to the @DTFA!!! #TreatitFwd!
– I'm donating to @DTFA by enjoying this YUMMY Frosty from @Wendys. 50 cents from a purchase are donated! #TreatitFwd
– Go to @Wendys on June 18 & 19 and buy a Frosty! 50 cents will be donated to @DTFA! Help #TreatitFwd by RT!
– Share a @Wendys Frosty with your FB friends! http://on.fb.me/mjFgBL Each frosty is a 50 cent donation to @DTFA! #TreatitFwd
What are you waiting for? Go give dad a yummy frosty!
Faith and Family Reviews received Wendy's gift cards in exchange for writing about this program and is being compensated by Wendy's and TheMotherhood. While we consider it a privilege to receive free products to review and compensation, our reviews are our honest opinion and thoughts of the product.
Share and Enjoy