Ok, my last book review for the week, maybe even the summer….but that's unlikely as I have some farming books to complete too.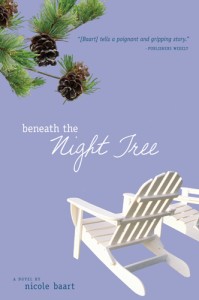 Beneath the Night Tree was highly emotional, funny and poignant story of a single mother. If you know a teen who has had a child out of wedlock then you will sympathize with Julia DeSmit as she travels the road as a single parent. You will be gripped to your seat as her life is upset by the reappearance of her child's dead beat dad.
Each of the characters in Beneath the Night Tree endeared themselves to me, all except one. I loved the mother-love Julia had for her two "boys".  The strength of Julia's character is amazing with all the events she had to overcome. I loved the relationship she shared with her grandmother. She was a devoted granddaughter.
Julia was fortunate enough to finally find love with a man who not only accepted and loved her, but loved her two "boys" as his very own. I think it takes a special individual to welcome a child that is not their own into their hearts and to love that child as if he was his flesh and blood. Not everyone can do it and I admire those who can and do. Since I have a tender spot for teen moms, I was in tears during many parts of this book as  Julia went through her soul searching adventure.
Two of my younger sisters were teen mothers, but only one of them stayed with the father of her children. The other is blessed to have found a man who is a true father to my nephew, who is going on 17 this year. His "dad" has been a father to him since he was at least 2 years old.
I highly recommend Beneath the Night Tree. It is an endearing story of one woman's ability to overcome the past and move on with the future. I have already begun to read it over again and that is not something I do very often!
Faith and Family Reviews received the following product, compliments from Tyndale House Publishers, in exchange for writing a review. While we consider it a privilege to receive free products to review, our reviews are our honest opinion and thoughts of the product.
Share and Enjoy