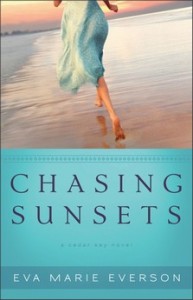 This weekend has been catch-up-on-book- review weekend with all of us being sick, well, most of the children are nearly well now. It's my husband and I who have felt the worst, and baby has a touch of it. Lots of time nursing.
Chasing Sunsets by Eva Marie Everson is about life after divorce, but more than that, about letting go of control, family secrets and the grace to cover them. Not to mention a sweet romance of finding your first love again. After all, who ever thinks that will happen?
Now, I don't know much about having my spouse leave me or divorcing me, but my heart went out to Kimberly, the main character in this book, as she maneuvers through a life that she did not count on experiencing. I can relate to living a life that is quite different from what I expected though.
I also understood Kimberly's desire to control her life circumstances as I have that tendency – whether I like that trait in myself or not. I am a thinker and a fixer. If a problem comes about, I want to solve it. That's good and bad because where is my trust in God if I am trying to figure everything out myself?
I enjoyed the story of Chasing Sunsets, but hated the cliffhanger of the second book excerpt the publishers included at the end of this book because now I have to wait to find out what happens! I think any woman who has experienced an altered life will appreciate and relate to the story within Chasing Sunsets.
"Available June 2011 at your favorite bookseller from Revell, a division of Baker Publishing Group."
Share and Enjoy