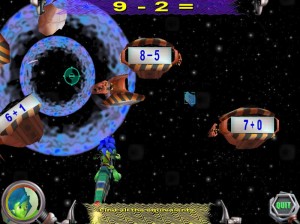 Most people either love Math or hate it. I fall somewhere in between. However, I have children who fall on either side of this love-hate relationship with Math. That's why I try to come up with different ways to teach basic Math skills so that we can keep as fun as possible. It works most of the time.
Math Blaster is one of those new different ways that we have discovered that our children love to do Math on! Well, at least the section that has the Math problems on it, as there is a section that seems to be rather lacking in the Math department. My boys have found away around the math problems (they always do!), but they did have fun doing the math problems.
Math Blaster is very easy to use. My sons go on it with no help at all. It's a great way to get your kids to do "extra" math while having fun!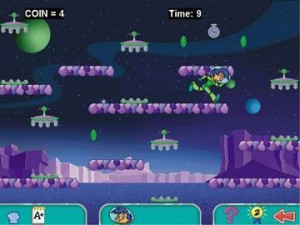 Our children were eager to play Math Blaster and enjoyed it very much. Now you have a chance to win this fun way to help your children have fun while practicing their Math skills!
Giveaway!!
Mandatory Entry: Tell me why you want to win!
Extra Entries (Please be sure and leave a comment and link for extra entries):
1 Entry:Follow Faith and Family Reviews On Twitter
1 Entry:Like/Friend Faith and Family Reviews on Facebook.
2 Entries: Follow Faith and Family Reviews on Google Friend Connect (on the our right side bar).
2 Entries: Tweet about this giveaway. Up to three tweets per day. Include a separate comment for each and your tweet url with your comment. You may write your own tweet or use this one:
Enter to win a 3 month membership to Math Blaster! http://bit.ly/mMTs8L @faithfamilyrevw! Please share!

5 Entries: Blog about this giveaway and link back this post.
1 Entry: For every comment you leave anywhere else on this blog, but please leave a link with your comment!
Details:
This giveaway will run from June 4th-to June 19th, 2011 at midnight CST. The winner will be chosen through Random.org. Math Blaster will send one winner their prize. Winner will be contacted via email on or before June 19th, 2011 and will be asked for their contact and other pertinent info. Winners will have 48 hours to send me their e-mail at [ffr] [giveaways] [at] [gmail] [dot] [com] (without spaces and parenthesis). Please note: This giveaway is offered to USA and Canada only.
Thanks and have fun!
I was provided with a membership good for Math Blaster and Knowledge Adventure at no cost by Knowledge Adventure in order to test the products' abilities and give my own personal opinions on it. The opinions I have given are mine and may differ from others but were not influenced by the company or the free product provided."
Share and Enjoy