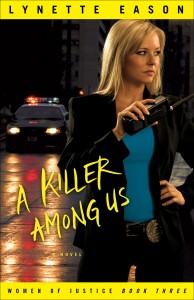 I have really enjoyed Lynette Eason's mystery/thriller books. A Killer Among Us kept me guessing as to who the killer was, but I will admit that early on it briefly crossed my mind, "Could……be?" However, the way Lynette wove the story together I was suspecting someone within seconds.
It's amazing how life events shape us. Kit Kenyon was a strong, talented negotiator who worked for the Police Department. Nevertheless, she was a character who could have been any one of us. Due to a recent revelation in her life, her relationship with God was on the rocks. She was angry because of decisions that were made that were beyond her control, yet God ultimately could have changed them  had He wanted to. Sound familiar? Ah-huh, me too.
Thankfully, Kit had some amazing people in her life to lead her back to God. Her family and her new partner, whose background had influenced the man he became as an adult. He was a man on a mission for God. His love for God was evident and made me reflect again on our ability to influence or hinder the gospel of Jesus Christ.
A Killer Among Us receives two thumbs up from me!
"Available May 2011 at your favorite bookseller from Revell, a division of Baker Publishing Group."
Faith and Family Reviews received the following product in exchange for writing a review. While we consider it a privilege to receive free products to review, our reviews are our honest opinion and thoughts of the product.
Share and Enjoy