Faith and Family Reviews received the following product in exchange for writing a review. While we consider it a privilege to receive free products to review, our reviews are our honest opinion and thoughts of the product.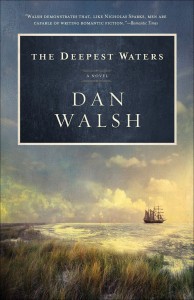 "I've written you a note, inside the pouch," John yelled. "Don't read it…unless you hear word that I – that I did not…" Tears poured down his cheeks. He looked away. "John!" she screamed. "I must go back…"
"Award-wining author Dan Walsh brings a powerful love story reminiscent of the Titanic to readers. The Deepest Waters(ISBN: 978-0-8007-1980-7, April 2011, $14.99) is a masterpiece of historical fiction set in 1857 when newlyweds John and Laura Foster set sail on the SS Vandervere for their honeymoon. Soon, their fairytale becomes a nightmare when a hurricane causes the ship to sink into the depths of the Atlantic. John and Laura are separated not knowing if they will ever see each other again."
 "Walsh was inspired to write The Deepest Waters by the true story of the sinking of a paddle-wheel steamship laden with gold from San Francisco, California. The SS Central America, bound for New York City ran into a hurricane which sealed her fate around September 11, 1857."
"Walsh takes readers on a journey through troubled waters as they discover the treasure hidden in The Deepest Waters, a story full of action and suspense. Through the Fosters, Walsh creates an amazing love story about what happens when miracles do come true."
About the Author 
"Dan Walsh is the award-winning author of The Unfinished Gift, and The Homecoming. A member of American Christian Fiction Writers, Dan served as a pastor for 25 years. He lives with his family in the Daytona Beach area, where he's busy researching and writing his next novel."
My Review:
Not being an avid reader, I really enjoyed this book.  It was easy to read and held my interest.  The first few pages catches your attention and then it turns into a "page turner". The middle pages seemed a little slow, but suspenseful.  However, the ending of the book does not fail!  You will again keep turning the pages wondering what happens next.  It's a great lounging or vacation book.     
The Deepest Waters (ISBN: 978-0-8007-1980-7, April 2011, $14.99)
"Available April 2011 at your favorite bookseller from Revell, a division of Baker Publishing Group."

Share and Enjoy