Faith and Family Reviews received the following product in exchange for writing a review for Litfuse Blog Tours. While we consider it a privilege to receive free products to review, our reviews are our honest opinion and thoughts of the product.
Most of you all know that I am intrigued by the Amish. Their community and lifestyle just holds some appeal, not only to me but to the thousands of tourists who visit Amish country in Pennsylvania each year too. Not to mention their modesty and style of dress is a novelty in a culture who seems to be undressing.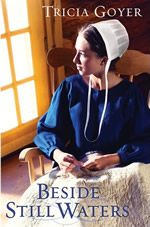 Beside Still Waters by Tricia Goyer is another Amish story. It is about the Sommers family, especially about Marianna Sommers, and her family's move away from their old community to a new one; and all the challenges a big change can bring. The storyline deals with many facets of the heart and relationships. I just want to share the ones that stood out to me.
I could relate to Marianna's struggle with the move. Nearly 17 years ago I made a huge move when I married my husband. I moved from a small country town in Canada to the Chicago area. A big move can be very difficult.
Marianna was not only dealing with the struggle of the move, but to be a dutiful daughter, the guilt of being born, and being attracted to English ways. Ever feel guilty for something you had no control over? I have, it's a huge weight to carry, and let go of.
I identified with Marianna's course of direction. It is hard to know God's will, let alone the true motives of our own hearts. I liked what Marianna's father said about peace, "It's a peace that comes even when you can't know the future. It's the peace that comes from knowing God is already there." That was a striking statement for me. To be comfortable with whatever is ahead because God is already there. No need to worry or fear because He is there.
Pretty strong stuff.
Again, Beside Still Waters is yet another book that reveals the Amish are drawn to many of the same things we are, are committed to God and family, they just live it out in a different way than most of us do.
Two thumbs up from me!
About Tricia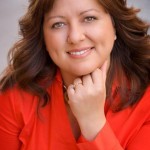 Tricia Goyer is the author of twenty-six books including Songbird Under a German Moon, The Swiss Courier, and the mommy memoir, Blue Like Play Dough. She won Historical Novel of the Year in 2005 and 2006 from ACFW, and was honored with the Writer of the Year award from Mt. Hermon Writer's Conference in 2003. Tricia's book Life Interrupted was a finalist for the Gold Medallion in 2005. In addition to her novels, Tricia writes non-fiction books and magazine articles for publications like MomSense and Thriving Family. Tricia is a regular speaker at conventions and conferences, and has been a workshop presenter at the MOPS (Mothers of Preschoolers) International Conventions. She and her family make their home in Little Rock, Arkansas where they are part of the ministry of FamilyLife. Visit www.triciagoyer.com for more info.
Blog Tour Giveaway
Tricia is hosting a book giveaway on her blog during the tour. Bonus: She's also giving away a Montana Amish Calendar to everyone who enters the giveaway! While supplies last. Be sure to head on over to her blog and enter yourself: http://triciagoyer.blogspot.com/2011/04/beside-still-waters-giveaway.html

To celebrate the release of the first book in the Big Sky Amish series Tricia is giving away 10 copies of Beside Still Waters and a pair of super cute antique Amish salt & pepper shakers.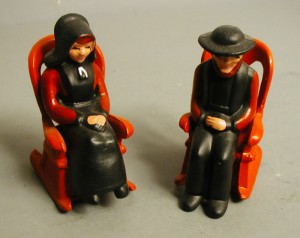 Details at Tricia's blog, It's Real Life: http://triciagoyer.blogspot.com/2011/04/beside-still-waters-giveaway.html
Share and Enjoy