Faith and Family Reviews received the following product in exchange for writing a review. While we consider it a privilege to receive free products to review, our reviews are our honest opinion and thoughts of the product.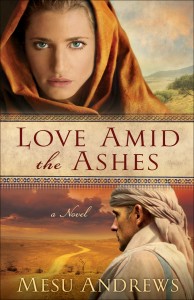 I really enjoyed readingLove Amid the Ashes by Mesu Andrews. It really made me want to study the book of Job in depth to see if Mesu was right in her assumptions! The way she spun the story made me question so many things. The bible states we are to be like the Bereans and study scripture for ourselves what is true. This is what Love Amid the Ashes made me do.
Obviously, this book is a work of fiction, however I do think Mesu took many creative liberties. For example, I would never have connected Jacob's daughter Dinah with Job and I desire to see that connection from verses of scripture. I also do not remember very much about Job's wife and now desire to learn more about her.
The book of Job is an example of a terrible tragedy revealing the depth of one man's stedfast faith. If only I were such a person. I fear I flounder far too much amidst suffering.
Love Amid the Ashes is a love story that demonstrates to us what faith, commitment and love for God really is. For me it was more than just a normal romance novel because it made me ponder and want to know the scriptures more.
"Available March 2011 at your favorite bookseller from Revell, a division of Baker Publishing Group."
Share and Enjoy