Faith and Family Reviews received the following product in exchange for writing a review. While we consider it a privilege to receive free products to review, our reviews are our honest opinion and thoughts of the product.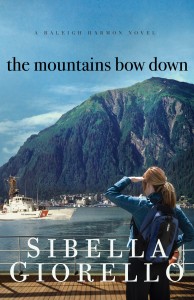 The Mountains Bow down is an intriguing murder mystery. FBI special agent Raleigh Harmon goes on a vacation cruise, but ends up working not only on a case, but with an arrogant colleague whom she starts to have feelings for…while still being engaged, and trying to keep her career choice a secret from her mentally fragile mother.
I really liked how the story kept me guessing right until the end. I also liked that it was a murder mystery rather then a mushy, gushy, romance novel. Guess I was ready for a change! (wry smile)
The life choices of some of the murder suspects makes me very thankful for my life – a life that is free from substance abuse and addiction. The only thing I can say I'm addicted to is work and chocolate! The way some people choose to live is very sad.
Raleigh's character portrays devotion to both her parents. While her father was dead, she honored him in her care of her mother. I enjoyed seeing her commitment to her mother played out throughout the book.
The Mountains Bow Down is not a predictable novel. It is a great read that will keep you clueless as to who the murderer is and it gets a two thumbs up from me.
About the Author
Sibella Giorello grew up in Alaska and majored in geology at Mount Holyoke College. After riding a motorcycle across the country, she worked as a features writer for the Richmond Times-Dispatch. Her stories have won state and national awards, including two nominations for the Pulitzer Prize. She now lives in Washington state with her husband and sons. Find out more about Sibella and her other books at her website. www.sibellagiorello.com
The Mountains Bow Down CRUISE Giveaway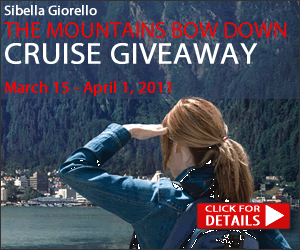 Sibella's celebrating the release of The Mountains Bow Down by giving away a Cruise prize pack worth over $500.00!
One Grand Prize winner will receive:
A $500 gift certificate toward the cruise of their choice from Vacations To Go.
The entire set of the Raleigh Harmon series.
To enter go here!
And enter soon – the giveaway ends on 4/1! The winner will be announced at Sibella's Raleigh Harmon Book Club Party on FB April 5th, 2011! Don't miss the fun – prizes, books and gab!
Share and Enjoy