Faith and Family Reviews received the following product in exchange for writing a review. While we consider it a privilege to receive free products to review, our reviews are our honest opinion and thoughts of the product.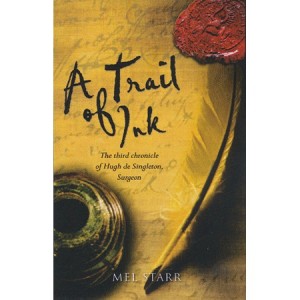 It has been a while since I have read a medieval tale. A Trail of Ink penned by Mel Starr was not what I would call a "candy" book. By candy I mean a book that you pick up and speed read through it. It had more substance to it than candy. After all the language of the 14th century England was very different than how we speak today. This is a good thing because it actually makes our brains think. Here is a list of words, see if you can guess what they mean without Googling them:
Candlemas
Coney
Egg leaches
Kirtle
Prebend
Anyways, A Trail of Ink is about the mystery surrounding missing books, a murder, with a love interest thrown in. Sir Hugh de Singleton is a Baliff for a Lord, as well as a surgeon. He is very cunning when it comes to solving mysteries so he is asked to solve the mystery. His love interest has a keen eye for seeing clues too. I found it rather slow in parts, but when it picked up it picked up and I was anxious to see where the next clue led the story. One of my favorite parts was when the Sheriff found Sir Hugh hanging a knight out a window!
I found the feudal system intriguing and wondered how the people lived as they did when certain ones thought them better than others with a higher station in life. At first my thoughts focused on how glad I was that this is not how it is today. However, the more I thought on it I realized that this does happen today in some respects, which is unfortunate. After all, who wants to live feeling beneath another person due wallet or land size? None of us.
While this was not my favorite book, I enjoyed reading of the time period and following the mystery.
About Mel Starr
Mel Starr was born and grew up in Kalamazoo, Michigan. After graduating with a MA in history from Western Michigan University in 1970, he taught history in Michigan public schools for thirty-nine years, thirty-five of those in Portage, MI, where he retired in 2003 as chairman of the social studies department of Portage Northern High School. Mel and his wife, Susan, have two daughters and seven grandchildren. www.melstarr.org
Share and Enjoy