Faith and Family Reviews received the following product in exchange for writing a review. While we consider it a privilege to receive free products to review, our reviews are our honest opinion and thoughts of the product.
Video Link: http://mediasuite.multicastmedia.com/player.php?p=s3k79xhw
When the opportunity arose to participate in The Life Ready Woman review, I thought it would be a good book to help me balance family, work and life in general. I was pleasantly surprised that it is not the book that helped me but the truths of God's word presented in the book that assisted me in learning to accept my calling and the place God has our family at this time.
While I do not necessarily endorse every thought in this book, it does a pretty decent job of sharing what my husband and I personally believe our biblical roles are as a man and woman; as husband and wife.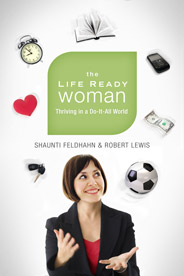 The thing I appreciated most was the reminder that each of our families are called to do different things. We are not called to do what the Whites or Jones families are doing.
The key is for a husband and wife together to determine God's wants for their lives, their marriage, their family, and to make decisions based on that rather than on worldly values–or even 'church culture values.
In today's society, we are pulled in all kinds of different directions and it takes much wisdom from above and input from our husbands to figure out what direction God wants us to go in. I am grateful for a husband who helps me from taking on too much outside of the home. We do not always get it right, but for the most part things usually balance out. What I really struggle with is working when I never planned to work. It was not until my husband was laid off three years go (don't worry he's back to work!) and we needed to figure out a way to make money that I discovered the entrepreneur buried within. I grew up being taught and believing a woman's place was at home. When we got married Robert and I decided I would work until we had children, but after that I would be at home. All of that change three years ago and we are still learning to balance family, work and life. Accepting and appreciating where our family is right now is how The Life Ready Woman enhanced my life.
This book is sold through any major bookstore.
Share and Enjoy