Faith and Family Reviews received the following product in exchange for writing a review. While we consider it a privilege to receive free products to review, our reviews are our honest opinion and thoughts of the product.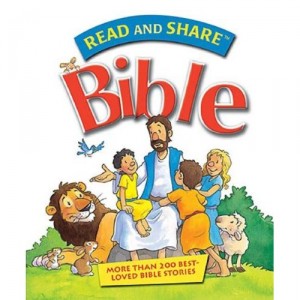 The Read and Share Children's Bible has over 200 Bible stories. At the end of each story there are questions to prompt discussion between parent and child. For the most part the stories remain true to the Biblical version (adapted from the International Children's Bible). Our older children were the first to point out that Rebekah wore a veil when she first met Isaac, and it was sadly missing in this Bible book. There were only a couple of little discrepancies, things that older children and adults would notice.
This little Bible is a good size and fits well in a child's lap, which we like. The illustrations are bright, but more on the cartoonish side, which we do not mind and have other books with cartoon characters. It was one of our older children, again, who made a comment about the noses of the people. It's just that our favorite children's Bible, which is falling apart, missing pages and no longer in print :-(, had more natural, true to life illustrations, so I think we are use to that in a Bible book. However, this Bible book does a very good job of portraying the meaning and message of our favorite Bible stories and keeps our children's attention. When we are reading it to them they always request we read more, if we stop at only a couple of stories; one of the best things to hear while reading to little ones.
This book retails for $12.00-$17.00 and is published by Tommy Nelson.
Share and Enjoy