Faith and Family Reviews received the following product in exchange for writing a review. While we consider it a privilege to receive free products to review, our reviews are our honest opinion and thoughts of the product.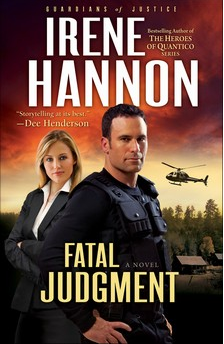 Fatal Judgement is a book about a US Marshal being assigned protection duty for a federal judge. While I have had the privilege of meeting a few lawyers I have not met a judge. I tend to think that being a judge or a lawyer would be a high pressured job with the fate of many lives being in the palm of your hand to make or break someone. It would be very hard in that type of profession not to tick off someone as someone is always a loser in a court case.
In Fatal Judgement, Liz Michaels discovers that she has a unknown enemy through a tragic event which results in her needing protection from a US Marshal Jake Taylor. This discovery changes her life.
This book kept me reading its dramatized plot, however, it was fairly predictable. What I took from the book is the difference between how Liz and Jake both processed the death of their loved ones. When we lose someone we love dearly, we have a choice to go through the grieving process and move on with life accepting God's plan or we can get angry, mostly at God and become bitter resulting in turning away from Him when we need Him the most.
Not many of us will have enemies seeking to kill us, but ALL of us will lose a loved one and experience grief. And with grief comes the choice – turn to God or turn away from Him. Liz had learned to turn to God to carry her through life's difficulties, whereas Jake was still hanging on to his hurt and grief. I believe there's almost always an element of anger while grieving, but the key is not to allow the grief/anger snuff out your spiritual life. Prayer, reading God's word all go a long way in lessening the anger aspect of grief. Again, as I said before in my review of Suzanne Woods Fisher's book The Search, it takes faith to believe that good can come from something bad. This principle may be applied to losing a loved one. We have to believe that God will work out His good through the death of a loved one, even if it was premature in our minds. The key is focusing on special memories, the good and move on by the grace of God.
Another lesson that stood out to me is to never just blindly take someone's opinion of a person and their character; make sure you get to know the person and learn for yourself what kind of person an individual is, in and of their own right. Their are too many things to jumble a person's perspective.
Fatal Judgment is a crime mystery book that is an enjoyable read, with some rather serious topics to convey.
"Available January 2011 at your favorite bookseller from Revell, a division of Baker Publishing Group."
Share and Enjoy