Faith and Family Reviews received the following product from Tyndale House Publishers in exchange for writing a review. While we consider it a privilege to receive free products to review, our reviews are our honest opinion and thoughts of the product.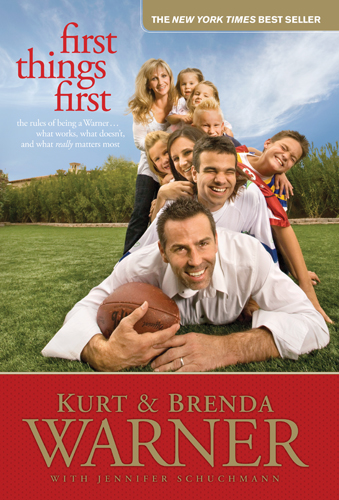 You know, it's sad to admit but I don't think I have ever heard of Kurt Warner (if you don't know either, he's a quarterback for the Phoenix Cardinals) until I was browsing through the Tyndale House website. Then again, I am not much of a football fan so how would I know him? What attracted my eye about this book was the fact that he and his wife, Brenda, have seven children. I am always interested in large families, especially Christian families. I enjoy learning about their family, how they do things and look forward to what I can glean from them.
The Warners appear to be a pretty normal family, considering Kurt is a celebrity and all. As a couple, they know what it is like to struggle financially and do their best not to take their current income for granted. They are all about their faith, their marriage, their family and others – in that order.
I love how their oldest son has been such a source of inspiration for so many of their ministry opportunities. I enjoyed how frank and openly they shared their lives with those of us who would read their book.
Kurt and Brenda really seem to have some great ideas about parenting. It is evident how much they love each other and their kids. Something they do that we do, but we didn't even think to take it as far as they have is when their children are fighting they have to hold hands. We do that too, but we require our children to sing Barney's "I love you" song (You all remember Barney the dinosaur and his opening song, don't you? Thought so. ;-)). However, the Warners require them to hold hands and if they still don't get along to go cheek to cheek, and if they still don't get along lips to lips!

Loved that! The thing is our children are usually playing by the time they are done the "I love you" song because they have to give each other the hug and a kiss the song talks about, "with a great big hug and a kiss from me to you, won't you say you love me too!" So I guess in a way we are requiring a pretty similar thing to the Warners. It's nice to hear of others implementing similar things that we do. Gives us hope for some reason.
And that is one of the Warners desires in sharing their thoughts in First Things First, that we might be encouraged and perhaps take something about their family and be able to implement it or change it to suit our own family.
I thoroughly enjoyed this book and would recommend it to anyone who is interested in learning more about the Warners life. They do get pretty candid, but nothing that offended me and I'll let our older girls read it too.
Share and Enjoy