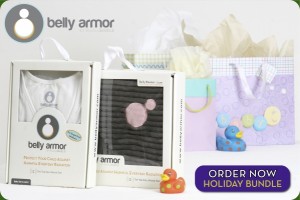 I bought Belly Armor's new Belly Blanket – Chic after Sir Eats Alot was born and although it is not as soft as the Belly Blanket Luxe, it isn't as hot to have over my lap. It does have a small hole in it already, which I think came from some moth infestation we had when we brought some boxes that were in storage into the house. Very disappointing, but so far it hasn't become any bigger. I have used it for a blanket for baby as well, especially if I happen to be laying in bed nursing and working on my laptop, as I will make sure I cover him while I work. It has a little hood on the corner like a baby towel does. I like it, but I think I like the Belly Luxe better because it does have a softer feel to it.
Now they have yet another new product on the market. Read more below…
Belly Armor Launches "Belly Band" to Shield Cell Phone and Laptop Radiation
New maternity band utilizes technology to address health concerns from everyday radiation exposure.
NEW YORK, NY, November 22, 2010 – Belly Armor by RadiaShield has recently launched the newest product in their line of maternity clothing and accessories – The Belly Band. Utilizing a silver-fiber textile, Belly Armor products shield radiation from cell phones and other electronic devices with over 99% effectiveness. To address the growing concern over the health effects from this radiation, Belly Armor has adapted this technology into a wearable maternity band.
Maternity bands have, in recent years, become an essential item for expecting mothers to both provide support and prolong the use of pre-pregnancy clothing. The Belly Armor Belly Band aims to capitalize on this trend by providing a band with the added functionality of radiation shielding.
"There are a lot of women out there who will be purchasing a maternity band already, it's an easy decision to choose the band that will also provide protection against the health risks from everyday radiation," says Belly Armor CEO, Aileen Chen.
The technology behind The Belly Band is called RadiaShield Fabric. It is lighter than the cotton found in a t-shirt, machine washable, and soft to the touch. The fabric utilizes an effect known as a Faraday cage, which neutralizes incoming radiation in a way similar to a grounding wire neutralizing an electric current.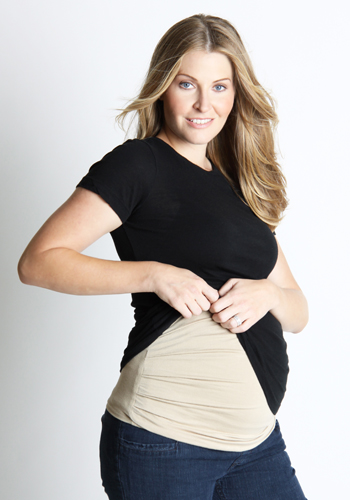 Health experts advise that pregnant women limit their exposure to this type of radiation, which comes from devices like cell phones, laptops, mp3 players, tablet computers, even baby monitors. Some countries and even parts of the US have begun passing legislation to reduce this type of radiation exposure. France has banned the sale and marketing of cell phones to children and San Francisco recently passed legislation requiring the labeling of cell phone radiation levels.
Belly Armor Belly Bands come in black, white, nude and hot pink and in four sizes. You can find Belly Armor Bands online at bellyarmor.com and at maternity stores across the US and Canada.
About Belly Armor by RadiaShield
Belly Armor by RadiaShield is the definitive resource for information and tools to protect your child against the risks of everyday radiation. Made with RadiaShield® fabric and the highest quality textiles, Belly Armor products provide stylish comfort, convenient safety, and reliable protection. Belly Armor products are available online at http://www.bellyarmor.com and through maternity retailers across the country.
Belly Armor is offering our readers the "faithandfam" for 10% off and it expires on December 31st. They have holiday bundles available, plus you'll receive an additional 10% off using this code!
Share and Enjoy