Faith and Family Reviews received the following product in exchange for writing a review. While we consider it a privilege to receive free products to review, our reviews are our honest opinion and thoughts of the product.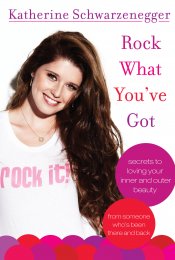 I really really enjoyed Rock What You've Got by Miss Katherine Schwarzengger. As a teenager I had developed a negative self-image of myself and began thinking I was fat when I wasn't. I cannot begin to count how many times I've been told I was thin and slender/skinny. I just thought everyone who told me that was lying and being nice to me. Katherine's book really opened my eyes to the fact that I can't be perfect and that I can't look like the size 0, six ft tall, 90 lb super models. These models are unhealthy, frequently too skinny and are air brushed, on top of being edited on photo shop. Those women aren't real. They are just fake women. The fact of the matter is most of those models are between the ages of 14-19 and haven't developed their "womanly" figures yet.
Rock What You've Got is a WONDERFUL book. Katherine shows all young girls that it's not your outer beauty that matters but your inner beauty that really, really counts. She covers a wide varity of topics from healthy eating to your period. I loved her honest opinion of things and the fact that she shows us proof that you can't look like a fashion magazine model.
This book is in a easy to read format yet it is very educational. Some how after reading this book I just don't feel bad about my body any more. I don't think I have felt like this in a long time. But, I like that!

I loved Rock What You've Got and will be reading it again and again. (I did however skip the section on birth control as I didn't really think I needed to read that). This book will show and help any young woman that they ARE beautiful and will help them with issues so many young women struggle with. I highly recommend Rock With What You've Got as a wonderful, educational, helpful, easy to read book for any young woman!

You may purchase this book at Hyperion for $19.99.
Share and Enjoy