Faith and Family Reviews received the following product in exchange for writing a review. While we consider it a privilege to receive free products to review, our reviews are our honest opinion and thoughts of the product.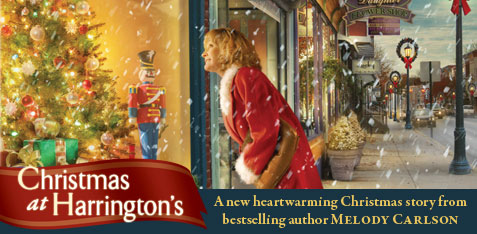 Once again, Revell surprised me. I wasn't expecting such an endearing Christmas story from the description they sent to me. I loved this little novel, which was less than 200 pages long. It was a story of love, hope and forgiveness.
I loved the emphasis on new beginnings and second chances for the main character, Lena Markham. Her circumstances such as they were – penniless, friendless – reminded me of what some homeless or hard hit individuals must go through.
This past week my husband and oldest daughter volunteered at a food pantry passing out food for a couple of hours. The needs are great not only in the lives of the people going to the mission for food, but also for the food pantry itself. Did you know that families only receive one roll of toilet paper per week? Could your family be so frugal to only use a roll of TP in one week?
Lena Markham was a needy character who had lost her faith in people and in God. When she started her new job, as Mrs. Santa at Harrington's department store, she met new people who loved her for who she was; she slowly regained ground in the trust department and her heart began to soften as she chose to help others and be the person she was meant to be. I wonder how many lives we could touch for good if we just chose to look beyond a person's circumstance, appearance or even first impressions? After all, we can't get to know a person if they are holding back their true self out of the desire to protect themselves.
Lena finds the change she's looking for and even reveals her true character, yet would that be enough to sustain her new life? When I discovered the answer to this question, I turned the page to realize I had just finished Christmas at Harrington's. Melody Carlson left me wanting more. I wanted to know the rest of the story – how all the different circumstances played out and what was next for Lena and the rest of the characters. I was left wanting to know if Melody is planning to write a sequel to this book! Please Melody write a sequel.

Christmas at Harrington's is an inspiring story that not only focuses on the true meaning of Christmas, which is the greatest gift of all, but also what it means to truly give a person a second chance.
Share and Enjoy