Faith and Family Reviews received a $100 gift code for writing this post through Brandfluential. While we consider it a privilege to receive free products to review, our reviews are our honest opinion and thoughts of the product, as are our sponsored posts.
Fall weddings are beautiful. Well, weddings are beautiful any time of the year, aren't they? In this post, I'd like to share 10 tips for planning a great bridal shower.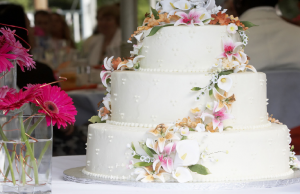 1.) Decide whether or not you are planning a surprise shower or will the bride be informed of this special party in her honor.
2.) Choose a theme. Themed showers are very popular these days and make planning fun. Themes may be according to the brides interests, the host's or a combination. Theme ideas include: Hawaiian (especially if the bride and groom are going to Hawaii on their honeymoon) or any other country the couple may be visiting, or perhaps a room theme like a Kitchen, Bathroom, Bedroom etc. This is just the tip of the iceberg and truly the sky is the limit on what the theme could be.
3.) Choose a location. This is very important, as you want to choose a convenient location for most of the attendees as well as have enough room for everyone.
4.) Make a list of guests. Usually the guest list includes close friends and families, but more often than not whole groups of people, like the church the bride and groom attend, will be invited as well.
5.) Order invitations. Once you have your theme and how many guests to invite, it's time to choose and order bridal shower invites. You can incorporate photos, customize or personalize these invitations to make them look exactly how you want them to. Once you receive the bridal shower invites, all you have to do is send them and wait for the RSVPs to roll in.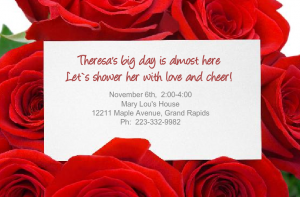 5.) Plan activities, games and prizes.
6.) Prepare a menu. Once you decide on the menu then you will have to choose a caterer or shop, cook and bake from scratch. Be sure to recruit some help if you are expecting a large crowd.
7.) Shop for decorations, game and prizes supplies. Quite often the host of the shower will gather information and photos of the bride and groom so that those who are only acquaintances can become more acquainted with the couple, their families, how they met and became engaged.
8.) Set up and decorate. Make sure there is sufficient space for gifts, coats, hats and purses.
9.) Choose a greeter. Have someone greet the guests and put their name in a hat or bowl for a random gift drawing.
10.) Lastly, but certainly not least, have fun and make sure to get lots and lots of pictures!
A bridal shower is a time for the bride-to-be to relax and surround herself with good friends and family. If you were planning a bridal shower, what things would you do to make the day spectacular for the bride to be?

Share and Enjoy