Faith and Family Reviews received the following product in exchange for writing a review. While we consider it a privilege to receive free products to review, our reviews are our honest opinion and thoughts of the product.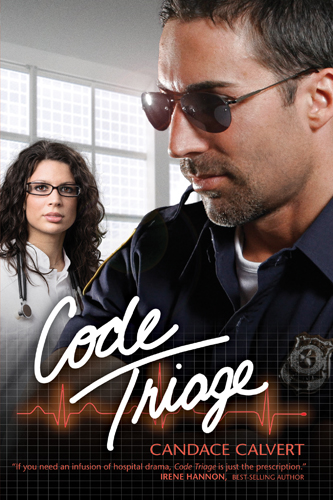 Dr. Leigh Stathos is an ER doctor who loves her work – "Treat 'em and street 'em" – without any emotional attachments. The hard knocks of life had taught her that nothing lasts forever, including her marriage to San Francisco police officer, Nick Stathos. Time is running out for the young couple's marriage when an act of violence forces Golden Gate Mercy Hospital into a lockdown. As the Stathos manuever their way through the maze of events that rock their world, will their marriage survive Leigh's confrontation with "the other woman"?
Code Triage is another one of those books that make you take a good look at your marriage and cause you to wonder just what it can survive. This book not only me made go through all the emotions Dr. Leigh Stathos went through, but also those of her husband, sister and patients. The whole gammit and the whole range of emotions of a broken heart.
Candance Calvert kept me on the edge of my seat as I read her book waiting for the whole story to unfold. I loved the faith Nick Stathos exhibited and empathized with him as he struggled to hang onto his marriage. I hurt with Leigh as she struggled through a wounded heart. It was really difficult for me to embrace "the other woman" who seemed bent on being a destructive force in more than just two lives.
If you like hospital drama and police action intertwined with romance then you'll like Code Triage.
Tyndale House Publishers has provided me with a complimentary copy of this book.
Share and Enjoy