Faith and Family Reviews received the following product in exchange for writing a review. While we consider it a privilege to receive free products to review, our reviews are our honest opinion and thoughts of the product.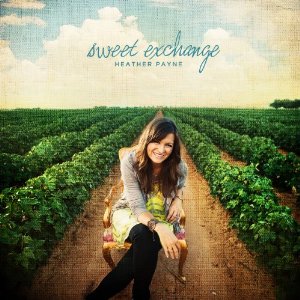 If you are familiar with the group Point of Grace, then you will remember Heather Payne who sang with the group before she left to focus more on her family. In spending more time with her family she and her husband were interested in teaching their children more of the traditional hymns that have all but disappeared from some mainstream churches. That led Heather to consider recording her own single album with all the old hymns but with a modern flair.
Sweet Exchange is Heather's her new album as a soloist artist, which she recorded in a friend's home studio on days her children were at school. What a mom, eh?! Her album is beautiful and will appeal to the younger generation who is not use to singing or listening to the old hymns. The words are the same but Heather has attempted to update them to appeal to a wider audience. So even if you don't attend church this album just might surprise you and appeal to your ear.
Personally, I love the old hymns, but I grew up singing them in church so they are what I know. They are so rich with meaning and truth of who Jesus Christ is and what He has done for each and everyone of us.
Heather's Sweet Exchange album is available here.
Share and Enjoy