Faith and Family Reviews received the following product in exchange for writing a review. While we consider it a privilege to receive free products to review, our reviews are our honest opinion and thoughts of the product.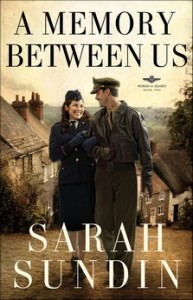 A Memory Between Us is the second book in the Wings of Glory series, which follows the three Novak brothers, B-17 bomber pilots with the US Eighth Air Force stationed in England during World War II.
As with the first book in the Wings of Glory series, Sarah Sundin, does a wonderful job of intertwining a love story with the historical job of B-17 pilots during the second World War. Only this time she tells the story of a war nurse as well.
Ruth Doherty is a female character with whom many women might just relate to more than they'd care to admit. Ever swear off men at some point in your life? Whether silently or outwardly? Yeah, me too, back in my college days. Well, Ruth is a woman that had plenty of reason to do so and had to learn to trust again.
Like any relationship, trust only comes when a person feels safe and loved for who they are. Ruth had to first deal with her past before she could open up and fully trust again.
I love Ruth for her desire to support her siblings and for her bravery, but I think she hid behind her responsibility.
Jack was the male lead in this book and he was gentleman, but somehow let his pride trip him up. Our pride is an ugly thing especially when it leads us to think we are better than others. In Jack's case, his pride got in the way of his work and relationships.
You will laugh and cry in this historical romance as it reveals a journey of two people as they allow God to change their old ways to make room for the blossoming new ones.
"Available September 2010 at your favorite bookseller from Revell, a division of Baker Publishing Group."
Share and Enjoy