Faith and Family Reviews received the following product in exchange for writing a review. While we consider it a privilege to receive free products to review, our reviews are our honest opinion and thoughts of the product.
Editor's note: For Christian readers, we have discovered some evolution in the section about dinosaurs. Just wanted to alert you if you decide to take a look at Time4Learning.com
About Time4Learning.com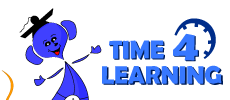 Time4Learning is a new approach that takes advantage of today's technology. It's a convenient, online home education program that combines learning with fun educational teaching games.
The online language arts and math comprise a comprehensive program for preschool, elementary school, and middle school. Science and social studies programs are provided as a free bonus for most grades.
The Time4Learning educational teaching program gives students independence to progress at their own pace.
Time4Learning tracks progress and helps students advance along individualized learning paths.
Time4Learning Members Get Access To:
Online Curriculum for Preschool to 8th Grade
1,000+ Student-Paced Animated Lessons
Math Exercises & Printable Worksheets
Language Arts from Phonics through Reading
Science & Social Studies In Most Grade Levels
Automated Reporting for Easy Record Keeping
Detailed Lesson Plans for Parents
Lessons Correlated to State Standards
Time4Learning is proven effective, has a low monthly price, and provides a money-back guarantee so you can be sure that it works for your family, Satisfaction Guaranteed!
Our Review
As a busy homeschooling, work-at-home mother I like it when educational products streamline things for me and make my life easier and Time4Learning.com has done just that during these busy newborn days as we adjust to a new normal. The offer to review Time4Learning.com came before Sir Eats Alot arrived and it served to be one of the most helpful things to come across our path. While I wouldn't consider Time4Learning.com a complete curriculum by any means, it definitely provides supplemental material to go along with or add to whatever schooling a family may be using – public, private or homeschool.
A couple of our children were the type to drag their feet when it comes to their school work, but Time4Learning.com actually made them want to do school on weekends too!
One of our sons says that he likes Time4Learning better than another online program that we tried (it was a freebie).
Time4Learning has enhanced the learning of our daughter who is interested in art as well as explain some Math concepts that weren't clear to her in her regular Math curriculum.
I find that there is enough variety in Time4Learning that the material keeps children interested and eager for more. After a month, a couple of our children have only begun to say that they wish there were "new" lessons because they have done their favorites multiple times, even during their free time!
It is unanimous that our children think that Time4Learning is fun – exactly what we as parents want them to think! Learning should be fun, as we give our children the gift of a life long love of learning.
Time4Learning sites:
http://www.Time4Learning.com – Online interactive curriculum for home use, PreK-8th Grade.
http://www.Time4Writing.com - Online writing tutorials for high, middle, and elementary school students.
http://www.Time4Learning.net – A forum to chat with parents online about kids, education, parenting and more…
Share and Enjoy