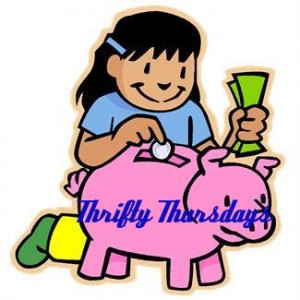 Thrift stores and resale shops are REALLY great stores! They often have everything from books to clothing, and most of the time at great prices. They are as good as garage sales! (read my post on those here) We have found some really great things at thrift stores including: clothing, furniture, books, kitchen supplies, houseware, electronics, childrens items, bedding, sewing items and lots more! They have so much to offer.
Thrift store items are usually reasonably priced and they usually have some sort of charity they support with the profits made.
I've found only 3 cons about thrift stores and two of them really are not cons.
1. Most of the time thrift store items are used and not brand new, but if you don't mind that then it's really not a con.
2. Some of the things at thrift stores is just junk, so just beware when you take children in with you as you may come across items that they may want that you don't want!

3. You can't use coupons at thrift stores but everything is SO MUCH cheaper than most stores. I don't really think this is neccassarily a con though.
Shopping at thrift stores is yet another way you can be thrifty!
Share and Enjoy