Faith and Family Reviews received the following product in exchange for writing a review. While we consider it a privilege to receive free products to review, our reviews are our honest opinion and thoughts of the product.
Making Waves
When spunky Marguerite Westing discovers that her family will summer at Lake Manawa in 1895, she couldn't be more thrilled. It is the perfect way to escape her agonizingly boring suitor, Roger Gordon. It's also where she stumbles upon two new loves: sailing, and sailing instructor Trip Andrews.
But this summer of fun turns to turmoil as her father's secret threatens to ruin the family forever. Will free-spirited Marguerite marry Roger to save her father's name and fortune? Or will she follow her heart–even if it means abandoning the family she loves?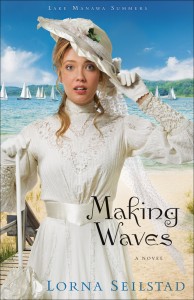 Our Review
Making Waves is a book about family relationships – the joys and challenges. I enjoyed reading of Marguerite's struggles with certain individuals in her life. Her father's secret grieved me, but I admired Marguerite's loyalty to her family and her desire to help.
Marguerite is probably like many of us who have been afraid to confront someone, especially a someone with a stronger personality, with our real thoughts and feelings about a very serious and important subject. In order for a relationship to flourish the people involved have to be upfront and honest, not in a hurtful way, even though the truth sometimes does hurt.
Marguerite is a character who also teaches the reader the consequences of lying. Lying, like many other sins, damages relationships. Better to be honest and establish trustworthiness than risk never being trusted again.
I think most people could relate to something in Marguerite and learn from her character's mistakes. I could relate more to Trip Andrews and his struggle to trust than I could to Marguerite. I found this book entertaining and wondered from one page to the next what Marguerite would do next.
Making Waves may be purchased through Revell or major book retailers for $14.99.

About the Author
Lorna Seilstad is a history buff, antique collector, and freelance graphic designer. A former high school English and journalism teacher, she has won several online writing awards and is a member of American Christian Fiction Writers. She lives in and draws her setting from Iowa. This is her first novel.
"Available September 2010 at your favorite bookseller from Revell, a division of Baker Publishing Group."

Share and Enjoy