Faith and Family Reviews received the following product in exchange for writing a review. While we consider it a privilege to receive free products to review, our review is our honest opinion and thoughts of the product.
It's back to school time and if your children are anything like mine they go through an amazing amount of pens and pencils! Pentel was kind enough to send us some samples for our Back to School Product Guide and I am finally getting around to writing the review. Readers and PR reps alike have been very patient with me as I try to get caught up.
The samples that I received included Hyper G Ultra Smooth Retractable Gel Rollers (pack of 3), The Study Pack – The Pink Pack! – Pencil, Pen and Highlighter that Pentel sells and donates five cents from every purchase to the Breast Cancer Research Foundation, a Tri Eraser and two .e-sharp mechanical pencils that take different size lead (0.7 and 0.5).
I have loved all of the Pentel products. The only negative that I have has nothing to do with the product, but my children. My two-year-old broke my "Think Pink" pen, which seemed to glide across the paper and it actually was pink ink, my favorite ink color. And my four-year-old lost my red Hyper G pen. Guess I shouldn't have shared, huh? (Just kidding!)
Tri Erasers – This is a novel idea and new to me to see an incased eraser like this one. I really like how well it erases and how easy it is to erase with it in this form.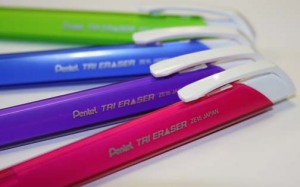 Hyper G Gel Pens- These are a fine tip pen and write well. I've had no problems with them thus far.
Mechanical Pencils – Really like these and used all the lead in one already keeping track of Sir Eats Alot's nursing and input and output

Think Pink Study Pack – This neat little pack held the pen with the pink ink that I really liked. The highlighter in this pack is retractable as well as refillable, pretty handy.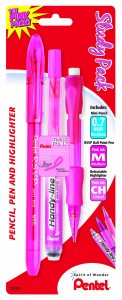 For more information about these and other Pentel products, please visit www.pentel.com
Share and Enjoy