I received the following product in exchange for writing a review. While I consider it a privilege to receive free products to review, my review is my honest opinion and thoughts of the product.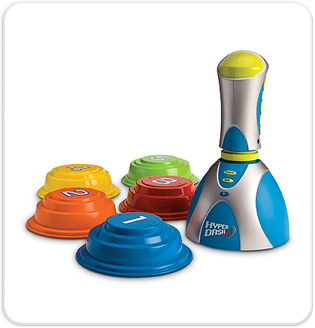 Overview
Hyper Dash will challenge you to be your best. It takes no time at all to learn, but selectable skill levels and four completely different game modes mean the challenge, like a real sport, will last a lifetime.
Hyper Dash consists of one electronic tagger and five different colored and numbered targets. The tagger plays pre-recorded music and calls out which targets you need to strike. It tracks the amount of time taken to complete each course. It can be set up side-by-side, or spread out across the length of a football field. There's no limit to the distance between targets. Farther targets result in more running and exercise.
Hyper Dash can be played indoors or outdoors; solo, in pairs, or in teams. Parents vs. Kids is an entertaining option. Cooperative siblings can work together to beat their best time, while more competitive kids prefer the head-to-head mode.
As your speed, skill and agility improve, the series of commands becomes longer and more challenging. Level one calls out the colors you need to tag, level two includes numbers, level three adds special commands (Double Strike, Triple Strike, Reverse, Double Reverse) and level four features Compu-Strike (addition/subtraction problems in which you tag the sum or difference of the numbers called out).
Other play modes include the memory game of Micro Dash and multi-player relay races that promote teamwork. For a game of Hide 'n Dash, let your opponent hide the targets before you begin. Every game has encouraging cheers and upbeat music to keep kids on their feet, expending energy and having fun.
Features
– Follow the commands and tag the targets with the handheld unit — fastest time wins!
– Set the targets on a table, around the room, or outdoors to test your speed and agility.
– 4 game modes to challenge your speed: skill, memory, coordination and teamwork.
– Play solo, head-to-head, or in teams.
– Music and voice drive the action.
– Includes ergonomically designed Hyper Dash unit and 5 targets.
Recommended Ages
Ages: 6+ / Players: 1-8
Battery Requirements
Requires 3 AA batteries, sold separately.
Retail $32.95 currently on sale for $26.95 on Hyper-Dash.com
Our Review
Most of our children really liked Hype Dash. They thought it was fun. One of our daughters said she could not get to level 2 or 3 on the harder ones. Another one of our daughters said she thought it was cool and that she really liked it. She especially enjoyed the multiplication, as that is what she's been working on in her school work. Our boys though were disappointed that the game pieces didn't shoot out like they thought they were going to, but that is the only real complaint we heard from them.

Hyper Dash is educational while being fun. It provides children a way to get energy our of their system while learning, thus making learning a fun activity. It gets a thumbs up from us!
Share and Enjoy