I received the following product in exchange for writing a review. While I consider it a privilege to receive free products to review, my review is my honest opinion and thoughts of this review.
Sue Berk Designs was founded in the Spring of 2002, by Sue Berk. She does not have any formal training in Art, but always had a love for it.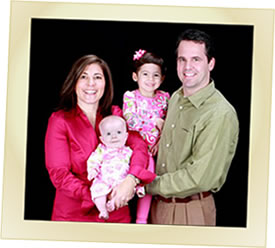 Sue grew up in Johannesburg, South Africa, and moved with her family to Houston during high school. She has traveled all over the world and lived in Israel for a year during her Junior year of college. After completing her Bachelor's degree at the University of Texas, Sue worked in high tech marketing and product management.
Tired of the corporate world, Sue then renovated houses for 5 years, appearing on The Discovery Channel and in The Dallas Morning News for excellence in home renovation. While renovating houses, Sue did all her own tiling and decided she could make tiles for less than the expensive styles she was buying. She bought a kiln and set about designing and making her own tiles. At this point, Sue fell in love with painting ceramics and started selling crosses, frames, lamps, tea sets, and other ceramic items in some of the most upscale neighborhoods in Dallas, where the company is based. The crosses soon gained in popularity, and Sue Berk Designs was born. Her designs are now sold in over 1000 stores around the country.
Sue lives in Dallas with her husband, Brad Walters, their children Emma, Rachael, and Max, and their 2 cats, Maddie and Max. She still loves to travel and goes to the beach with the whole family whenever she gets the chance!
Our Review
We were delighted when Sue Berk contacted us regarding doing a review of her designs. She sent us two items which are shown below. The first is a cross and the second is a baby blanket:
Cross- $22.95, three colors: pink, blue or white. Other styles and colors are available.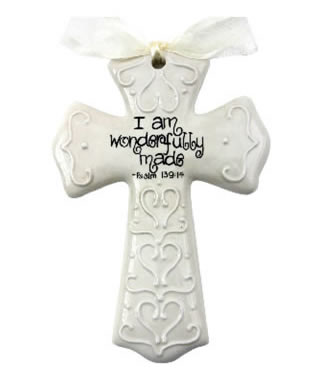 Blanket- $29.95, two colors: pink or blue. Other styles available.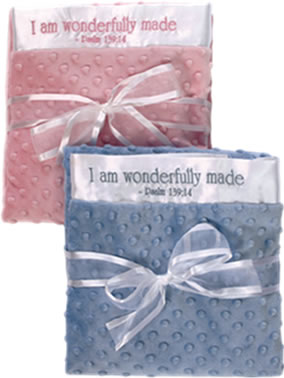 The cross is beautiful, as you can see from the photo, but photos often do not do a product justice and that is the case with both the cross and the blanket.
The baby blanket is incredible and has become one of my favorites for Sir Eats Alot. It is so soft and silky. One side is made of satin fabric and the other side is a micro velour, a very soft fabric. The satin side is cool for the warmer months and the velour side is warm for the cooler months.
I love the verse that is stitched on the border of the blanket, "I am fearfully and wonderfully made" ~ Psalm 139:14. A reminder that God has knit our little ones together in the womb and that they are fearfully and wonderfully made by Him.
The blanket washes up really well. It makes a great nursing cover too, if you are a mom that prefers using blankets to other items. It is also packaged nicely, complete with ribbon, making it a great baby gift item.
I am very pleased with these two products. Thank you, Sue!
For more information, please visit http://sueberkdesigns.com
Share and Enjoy