I received the following book in exchange for writing a review. While I consider it a privilege to receive free products to review, my review is my honest opinion and thoughts of the book.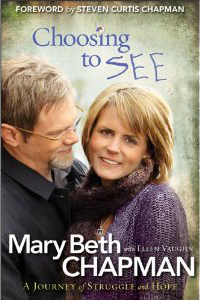 When I read the pitch for the Choosing to SEE (by Mary Beth Chapman with Ellen Vaughn) blog tour from Revell, I knew that I really wanted to read Mary Beth Chapman's book. Having lost babies in utero, my dad and grandmother I understood the grief process and even though it has been a few years for some of my losses, I still grieve for them. I also knew that Mary Beth understood grief in a big way since she and her family lost their youngest daughter, Maria, in 2008 and I am always on the look out for books on grief written by credible Christian sources.
Choosing to SEE is Mary Beth's life story. Her journey with God. I found Mary Beth as real as she could get. I laughed with her and cried with her as she shared her story. I empathized with her as she struggled to grasp where God is when things fall apart.
I thoroughly enjoyed learning more about the wife and family of Christian artist/song writer/musician, Steven Curtis Chapman, whom I have listened to since the late 1980s. I found their story encouraging and inspiring.
Choosing to SEE isn't a book on grieving, that's just one of my reasons for desiring to read it. Choosing to SEE is for anyone, as I am sure Mary Beth's story will touch the hearts of all who read her story.
I love the quote Mary Beth has on her website:
Love of God is pure when joy and suffering inspire an equal degree of gratitude.
Share and Enjoy