I received the following book in exchange for writing a review. While I consider it a privilege to receive free products to review, my review is my honest opinion and thoughts of the book.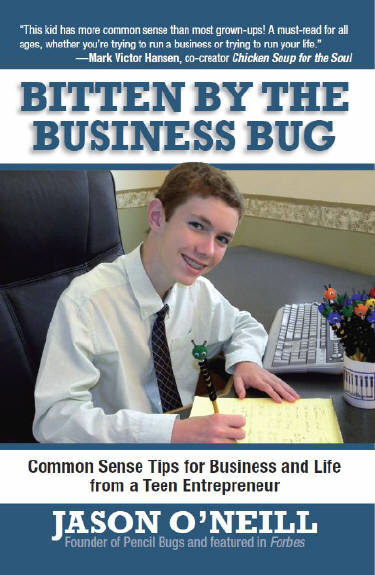 Jason O'Neill was one of the people to respond to our Back to School Product Guide with a pitch about his Pencil Bugs and new book, Bitten by the Business Bug. He generously offered to giveaway a copy of his book to our readers, which is our current giveaway. The book was written by Jason, who is a teen entrepreneur. It is filled with common sense tips for business and life, all from Jason's own experience.
I had hoped to have this review posted earlier but a certain little "Sir Eats Alot" (our two-week-old son) arrived earlier than anticipated and threw us off our posting and reviewing schedule. Bitten by the Business Bug is a must read for parents and their kids, whether you are interested in business or not. Jason is an inspiration. I am having my daughters read his book. Right now my oldest daughter is working her way through it and is about half way done. I will have her post her review, as well as her sisters', so you get different perspective from them.
Schools do not teach entrepreneurship or thinking outside the box. That's why my husband and I are interested in books like Jason's to help fill in the gaps of our children's education with supplemental material.
Bitten by the Business Bug is a close look at a young entrepreneur's adventure into business ownership, the opportunities that have come with that ownership and the lessons learned. These opportunities and lessons have taught Jason so much more than he would ever learn in school alone. He and his parents have been wise in keeping school first, being a normal kid second and business third. In doing so this has allowed Jason to be a kid, but even more than that has taught him that just because he is a kid doesn't have to limit what he can accomplish. Jason has big aspirations for Pencil Bugs and it will be interesting to see all that Jason will do in the future.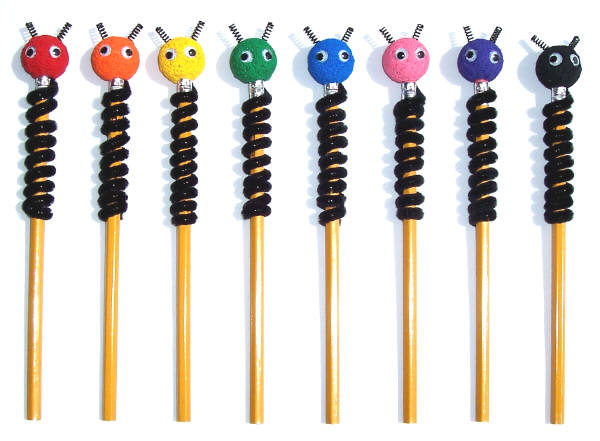 Jason is a philanthropist at heart. Since the advent of Pencil Bugs has given portion of his earnings a to kids in need, whether that is helping kids in foster care or sick children in the hospital. From donations to gift bags, Jason has helped meet the needs of children in his community.
I think both parents and children will learn much from Jason. I know I did and hope my children do too.
Visit www.PencilBugs.com for more information about Jason, his book and business.
Share and Enjoy