I received the following product in exchange for writing a review, while I consider it a privilege to receive free product to review this is my honest opinion and thoughts of the product.
Dash Away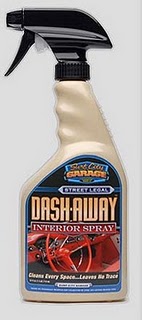 Website Description:
To enjoy the open road in peace, you need the interior of your car to be your own personal sanctuary. And that's where Dash Away comes in. Spray it anywhere, anytime to get super-fast cleaning with no greasy film residue and no sticky surfaces. It also smells great, better than after a professional detail. Use it on carpet, cloth, vinyl and smooth leather, because it's incredibly effective on every surface as well as 100% safe. So no matter what kind of dirt you have or how long it's been there, use Dash Away to make it all vanish in minutes.
Our Review
We have used other car cleaners before, but not ones that would clean vinyl and cloth. We liked Dash Away, as cleans many different surfaces and it as effective as they claim. My husband used it to clean his 1992 Mitsubishi Eclipse and he found that it took the scuff marks out and did not leave any filmy residue.
Our oldest daughter used it on the seats of our 15-passenger van and discovered that it does indeed take out stains in a matter of minutes/seconds really. However, she got a very bad headache while using Dash Away. She's one of our most chemically sensitive children, even though she is a teenager. She gets headaches when she is exposed to strong chemicals and with some ingredients she even breaks out and her hands did get red with Dash Away. So I do want to warn you that this product probably isn't the right product for those with chemical sensitivities, unfortunately.
My husband did not complain about the smell so he will use it to clean his car again. The rest of us probably will not be using it again though.
Here's the warning that is posted with the product description on the website:
Warning:
CAUTION: KEEP OUT OF REACH OF CHILDREN AT ALL TIMES. Irritating to eyes. Prolonged or repeated contact with skin can be irritating. Harmful if swallowed. FIRST AID PROCEDURES: Eyes: Flush with water for 15 minutes. If irritation persists, call physician. Skin: Flush with water. Ingestion: Call physician immediately.
Share and Enjoy