I received the following product in exchange for writing a review. While I consider it a privilege to receive free products to review, my review is my honest opinion and thoughts of the product.
We featured these Disney products earlier in the week in our Back to School Product Guide for School Supplies Part 1, School Supplies Part 2 and Lunches Part 2. However, since we actually received these products we are also writing a review about them too.
These are the products that we received:
Disney Supply Kit this cute kit comes with a pencil sharpener, eraser, a small notebook (50 pages), pencil case, 3 folders, and 3 pencils. Designs are in Cars, Toy Story 3, Fairies, and Disney Princesses. ($12.50)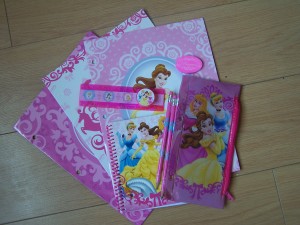 Disney Princess Lunch Tote make meal times a royal occasion with this Disney Princess Lunch Tote. Sleeping Beauty, Belle and Cinderella add lots of sparkle to this Disney Princess bag that will keep their food fresh happily ever after, well until lunchtime at least. (Regular $12.50 now on sale for $8.00!)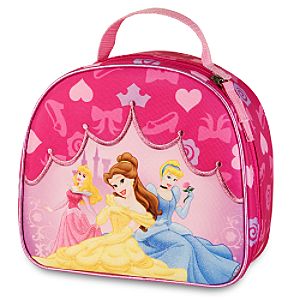 Personalized Disney Princess Backpack ($19.50) This adorable backpack is so cute for your little princess. It becomes even more royal when you personalize it with your little princesses name!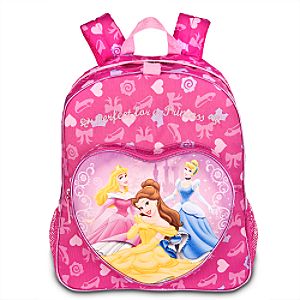 We also received some Disney character snack products – Fruit Crisps, Disney Phineas and Ferb Gummies, Belly Washers Apple Juice and a Cars Grape Juice.
Our Review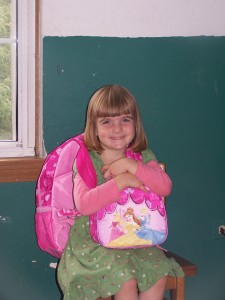 I think our daughter's smile says it all, doesn't it? You don't know how much she has wanted a Princess backpack and when I was asked what I was interested in reviewing, I gave our PR rep two choices and after I had done so, wished I had just outright requested the Princess. Well, as Providence would have it, that is what she sent! Blondie was very pleased and excited. She's outside playing right now with the backpack on her back. I am sure everything else is tucked inside too!
The backpack and lunch tote both seem very well made with thick material. Again, time will tell how long they last.
The pencil case in the Disney supply kit is made of a plastic material, so I am not sure if it will be easily punctured with pencil tips or not. I am hoping not because a little girl will be very disappointed! The other things in the supply kit – folders, eraser, pencils and notebook all seem to be of equal quality to the better quality items found on the back to school shelves.
The Disney snacks were tried by all of us and all were very yummy. Amazingly, most of these snack items were labeled "All Natural", even the container of the grape juice was labeled BPA, Phthalates & PVC free. The apple juice contained no sugar or artificial flavors, same goes for the fruit crisps, which were freeze-dried pears. The only thing that is if-y is the gummies, as they are labeled naturally and artificially flavored and since we received an individual sample the ingredients were not included on its tiny package.
FYI:All of the Disney products the Backpack, lunch totes and pencil kits are executively sold at Disney Store and DisneyStore.com. They can't be purchased anywhere else.
Overall, we were very pleased and happy with the Disney products we received.
Share and Enjoy