This post was written to participate in a chance to win a $50 gift card from One2One Network.

We use to follow the NBA very closely especially when Michael Jordon was playing, but we haven't really watched much of the WNBA or any other sport in years. It is very rare if we do. However, we still like sports, and will follow our favorite teams online or in the newspaper if they are doing well. Yes, we our loyalty is conditional.

So this is really for all the other sports fans out there who enjoy the basketball and want to attend an WNBA game! There are some discount offers in specific markets that you just have to check out!
WNBA Discount Details:
We have special offers from the One2One Network to share with our friends, readers and fans. Click here for details on the special promotion in your market. To get the special ticket deal, enter WNBABLOG at ticketmaster.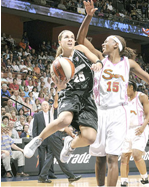 These deals are too good to miss – some markets are as much as 60% off tickets! If you don't live in a WNBA market, forward the fun to your friends and family who do.
Offers are good through the end of the regular season (August 22).
WNBA teams are Atlanta Dream, Chicago Sky, Connecticut Sun, Indiana Fever, LA Sparks, Minnesota Lynx, NY Liberty, Phoenix Mercury, San Antonio Silver Stars, Seattle Storm, Tulsa Shock, Washington Mystics.
Share and Enjoy