I received the following product in exchange for writing a review. While I consider it a privilege to receive free products to review, my review is my honest opinion and thoughts of the product. This review was first published at The Alternative Consumer here.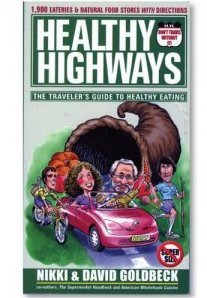 Healthy Highways – A Traveler's Guide to Healthy Eating
There are travel guides to help you find green hotels and now Nikki and David Goldbeck have written a traveler's guide so that you may find organic, green or natural food restaurants and stores along the highways of your vacation.
Healthy Highways is the second edition of the Goldbecks book. It contains 2,800 eateries and natural food stores throughout the USA. This handy little book also includes a map of each state, directions to each one, what the eatery provides in the way of food and its hours of operation – All in a 470 page book. The book is 8"x 5 ¾ "so it is easily carried in a handbag, glove compartment or car door storage compartment.
We have not had a chance to use this book while traveling, but think it will be a helpful tool when we take the family on the road. The more we learn about conventional farming and industrial food processing the more we desire to eschew supporting these government and corporate controlled methods in our food system. However, it is a journey for sure.
Speaking of journeys, the next time you take a trip you might want to include this handy guide to healthy eating so you don't compromise your eating habits just because you are on vacation.
Healthy Highways is available in bookstores and natural food stores everywhere or directly for $19.95, plus $4.95 s/h and NY sales tax, from Ceres Press, P.O. Box 87, Woodstock, NY 12498 or visit www.HealthyHighways.com for online discounts.
Share and Enjoy