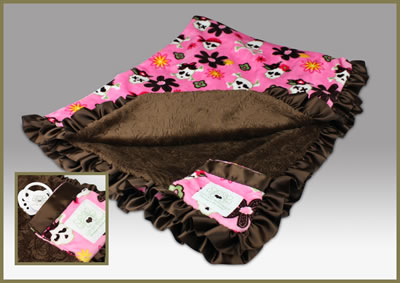 Luv My Woobie is a cute baby blanket and is very soft and comfortable for baby it is like chenille, trimmed in satin and appealing to the eye. For those who use pacifiers, you will be happy to know that the Luv My Woobie has a little pocket on the back side to store a pacifier. It even has a Velcro closure so no more losing pacifier!
I could not decide whether or not to let A use this blanket or wait till August if this little one is a girl. So I finally let A use it. She LOVES it!

The one thing that I missed when I took the opportunity to review Luv My Woobie is it's fabric. The one my daughter got is pinks and browns with flowers – everything my daughter loves – except it has skulls on it. They are not scary skulls, they have bows, crowns, bandanas and flowers on their heads and hearts, X's, and moons for eyes. Therefore they are almost feminine looking, as much as skulls can be. That is my only negative or complaint, if it can be called that because skulls just are not my preference. But my daughter doesn't seem to mind and seems to think they are "little girls".

Gotta love a child's point of view! I just found out that this Luv My Woobie is called Sydney and retails for $74.00! Wow, thanks Luv My Woobie!
Luv My Woobie comes in many different fabric choices so be sure to check their website for not only baby blankets, but their smaller travel blankets, burp clothes, bedding, accessories and even their organic line at www.LuvMyWoobie.com
Share and Enjoy