I received the following product in exchange for writing a review. While I consider it a privilege to receive free products to review, my review is my honest opinion and thoughts of the product.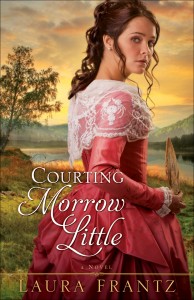 Courting Morrow Little was an intriguing novel based in the frontier time. I really liked the story line, as tragic as that time period was with the unrest between the Native American Indians and the settlers. The main character, Morrow Little, was no stranger to tragedy either.
The story touched on many issues prevalent in that time period. However, the issue that stood out to me most was Morrow's struggle to deal with the past and move on from her own personal tragedy to embrace her future.
I really enjoyed Morrow's love story and how the author intertwined it with her personal conflict. It was interesting how Morrow learned who her real friends were, but yet it corresponded with how we all realize at some point or another who our true friends are and who are not. Life lessons often come with some hurtful knocks along the way. True friends need to be treasured because they are hard to come by and need to be nurtured to some degree to keep the bonds close. Other friendships will come and go.
This was another riveting story that I stayed up late to read.
"Available July 2010 at your favorite bookseller from Revell, a division of Baker Publishing Group."
Share and Enjoy