I received the following product in exchange for writing a review. While I consider it a privilege to receive free products to review, my review is my honest opinion and thoughts of the product.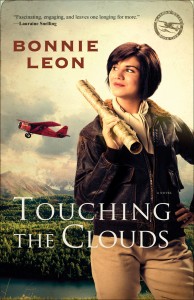 Touching the Clouds was written by Bonnie Leon. It is story based in Alaska. The main character is Kate, who is a female pilot. She has an independent spirit, yet I detected that she was "escaping" more than she was searching for adventure as a bush pilot. One of her co-characters, Paul, seems to have the same escape mechanism.
I think many of us can relate to that because how often do we just wish to run away from our problems or circumstances when things aren't going the way we want or think they should? I know I can. The thing is God doesn't want us to just "escape", He desires us to know who He is amidst our difficulty. He wants us to know that His thoughts of us have not changed just because our feelings and circumstances have.
Through events and circumstances, Paul and Kate learn not only how to trust themselves again, but also the Lord. It was a good read.
"Available July 2010 at your favorite bookseller from Revell, a division of Baker Publishing Group."
Share and Enjoy