I received the following book in exchange for writing a review. While I consider it a privilege to receive free products to review, my review is my honest opinion and thoughts of the book.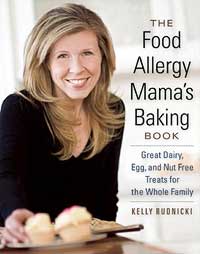 When I read this book I was rather surprised that this was not yet another cook- book filled with un-healthy recipes but rather that even though this is a baking cook-book it  had some relativity healthy recipes that looked delicious!
I thought that I would share some of the Food Allergy Mama's story:
I am a mother of four young children in suburban Chicago. My second child, John, was diagnosed at age one with severe dairy, egg, peanut, tree nut and legume allergy. He also is asthmatic, so the likelihood of a life threatening reaction from food is increased. I spent a few years learning the ins and outs of food labels, ingredient and product information, and most importantly, how to cook and bake for not only my son, but for the rest of my family as well. t has become my life's purpose to raise awareness and increase funding for food allergy research. I am passionate about not only keeping my son safe, but alive. A food allergy diagnosis is scary; it is the fear of the unknown that keeps us moms of food allergic children awake at night.
The Food Allergy Mama's Baking Book is a wonderful guide for any mom with children that have food allergy's this cook-book has recipes for severe dairy, egg, peanut, tree nut and legume allergys. It has recipes from muffins, to cakes, to goodies, and more!
To order The Food Allergy Mama's Baking Book you may order it here for $19.95 plus S+H.
Share and Enjoy